It's a joy to hold. Despite featuring a 6.3 inch display with an 18.5:9 aspect ratio, it doesn't feel that big at all. The screen delivers vibrant colours and dark blacks. 2,960 x 1,440 (3K QHD+) means it simply cannot notice anything more sharp beyond this point.
Smooth glass back and front has less curvature on the corners than before. Despite the glass it doesn't feel slippery at all. I haven't dropped it yet and that includes carrying it with me on runs.
Power:
Snapdragon 835 assisted by 6 GB RAM obviously means nothing fazes it. That's all you need to get other geeks to say 'oooh' and 'aah'. Bloatware is minimum and so far, I've never faced a hiccup. At this price point, I would be thoroughly disappointed if it did.
The magic trick:
The best feature I found was the S Pen. It is the same hardware as the previous model, has a clickable top and a 0.7 mm ballpoint-sized tip. This is what makes the Note8 a special tool for artists. It has more than 4,000 levels of pressure sensitivity. That means you can accurately draw just about anything in any style you wish. Download the right app and off you go. This is the reason why I would own a Note. It allows me to draw just like I do on pen and paper. The only thing to beat its fluidity is Wacom's range of touchscreen graphic tablets. Another neat feature is how you can draw or write without even unlocking the device. Pull out the pen and start sketching white line son the black screen surface. Brilliant.
Camera:
The other reason you really want this. They finally do the dual camera thing everyone else is doing. One camera is a wide angle, telephoto lens while the other is another telephoto lens offering 2X optical zoom. Nope, not your software BS here. Both units feature optical image stabilization and are 12 MP with f/1.7 aperture on the main sensor and f/2.4 on the secondary. All your photos should come out well if you don't jump around too much.
Samsung is offering a feature called Live Focus that allows you to take multiple shots to be edited later. This includes taking shots with both the wide angle and telephoto lens simultaneously so you don't lose a moment trying to capture an image flipping between lenses. Cool.
Photos are fantastic and selfies will automatically make you look a little better, realistically. Yes, there is some inherent smoothing going on.
What else?
Standard fare throughput with a bit of an upgrade here and there. Fast wireless charging, Bluetooth 5 and IP68 certification allows you to connect while underwater. Not sure why or when you would want to do that though. Considering the amount of flooding in Bangladesh's cities this year, perhaps that set of features will be coming in handy sooner than you think. "Aye Boss, I'm currently under drain water in Dhanmondi, but here's the correction to the layout you requested. I shall try to be in office soon as the rain ends and I have taken enough antibiotics to fight the bacteria I swallowed. BTW S-Health suggests I swim."  And while we're at it, it also has a headphone jack. For now.
What you won't like:
It's a tall phone. When you fish it out of your pocket you want to unlock with a touch. Good luck finding the fingerprint scanner at first go. It is placed near the top, off to the right. Most people grab a phone by the bottom and their index finger simply won't reach the scanner. You will need to caress the back of the phone rather intimately to get to the scanner. It has a slight recess to make it easier to find but a couple of tries will be required.
You can opt for face detection but it will not work if your face is in the dark. I tried unlocking it that way while out on a run. Our dark streets are not very helpful. There is also a quick iris scanner which works but each time left me feeling a little jab in the eye. Many people have reported that the iris scanner causes discomfort. I would rather stick to the finger print scanner which is also placed next to a heart rate monitor.
Battery:
It has a 3,300 mAh battery, not quite what I expected form a phone sporting such impressive power and a QHD display. Average screen on time is just barely over 5 hours. I move around a lot either using Uber, Pathao or when I go on my own runs. Those times, GPS and data easily eat up a good chunk of backup. But on normal usage you can get by a whole day.
What about Bixby?
Samsung's assistant Bixby is still developing and has improved over the last time I used it. Does well with phone related tasks but not so much when it comes to online queries.
SPECS
Display: 6.3 inches 1440 x 2960 pixels
CPU: Octa-core (4×2.3 GHz & 4×1.7 GHz)
RAM: 6 GB
ROM: 64 GB
Back Camera: 12 MP +12 MP, f/1.7 + f/2.4, 26mm,
Selfie Camera: 8 MP, f/1.7,
Battery: 3,300 mAh
OS: Android 7.1.1 (Nougat)
Price: Tk 94,900/-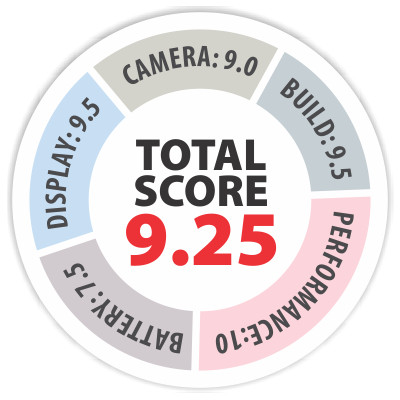 Verdict
If the new Note 8 was a superhero, it would be the Hulkbuster upgrade to Ironman. It's bigger, badder and more powerful. What are you going to do with it though? People claim that now they are more productive using it, courtesy of the excellent pen tool. Business will be profitable, charities will be saved and so on. On a more realistic note, this device is a huge leap forward in terms of bragging rights. It has power you cannot use up right now, a screen that is gloriously sharp and a design that cleverly does away with the bulk. The original Note introduced the world to 'bigger is better' mantra for phones. But Samsung seems to have taken a smart step backward. Sleek is better. Coupled with one of the best mobile phone cameras around and that beautiful stylus perfect for artists, this device is unbeatable.
The caveats include an unbeatable price as well; it's a lot, more than any other Note before. The fingerprint scanner is annoyingly placed and the battery isn't as stellar as the price would suggest. But I feel most people will consider these minor issues when they can have one of the fastest, best looking and sleekest phablets in the market. If you're in the market for the perfect android device, and Samsung is your choice, you ask yourself "Do I want sleek bigness and a fantastic pen tool or the slightly smaller S8 that does other tasks just as well?" Those are your choices.