Carrying her sick one-year-old baby in her lap, Salma Khatun started for Dhaka Shishu Hospital from Savar by a bus around 11:00am yesterday.
Little did she know the trouble she would have to endure, as the bus remained stuck in an eight-kilometre tailback stretching from Hemayetpur to Gabtoli, thanks to police check near the Gabtoli bridge ahead of a BNP rally.
"My baby has been suffering from fever and diarrhoea. I still don't know when we will reach the hospital," said an exhausted Salma while resting under a tree near the bridge around 1:15pm.
As traffic on the highway was at a standstill, Salma and her husband got down from the bus at Hemayetpur and started walking, braving the scorching heat.
"We walked all the way from Hemayetpur to Gabtoli," she said, handing over her ailing baby to her husband.
Like them, thousands of commuters heading towards the capital from nearby districts suffered immensely as police stopped vehicles near the entrance to the city to conduct searches before the BNP rally.
Talking to this newspaper, Additional Superintendent (Dhaka district) of Police Saidur Rahman said they had set up checkpoints on the highway to ensure security of people. He declined to speak further.
The sufferings of Dhaka-bound commuters were compounded by a shortage of transport.
Seeking anonymity, a bus driver in Narayanganj alleged that they were instructed by the transport owners' association not to hit the roads yesterday.
A bus conductor of the VIP Transport service on Dhaka-Gazipur route also echoed his words.
Contacted, Khandakar Enayetullah, secretary general of Bangladesh Road Transport Owners Association, dismissed the allegation of giving any such instructions.
He claimed that the presence of public buses on the city roads was normal. But the number of buses coming to Dhaka was less than usual as some owners decided to keep their vehicles off the roads for fear of vandalism.
"We all know what the BNP did during its blockades [in 2015]. We have seen violence and attacks on vehicles at that time," said Enayetullah, also vice president of Dhaka city AL unit (south).
However, there was a lack of transport in the capital and people were seen waiting for long at bus stops in Mirpur, Farmgate, Paltan and Gulistan areas. Failing to get any transport, many of them returned home.
Besides, roads around Suhrawardy Udyan saw traffic congestion due to the BNP rally. Hundreds of vehicles were stuck in long tailbacks between Paltan and Shahbagh.
Talking to this newspaper, BNP Senior Joint Secretary General Rizvi Ahmed alleged that the government suspended public transport services to bar the leaders and activists of the party and its allies from entering the city so that they cannot attend the rally.
Meanwhile, Road Transport and Bridges Minister Obaidul Quader said it needs to be investigated who barred BNP leaders and workers from joining the rally.
"When we looked into their allegations in the past, we didn't find any basis of those," he said at a programme in the city.
DISRUPTION IN BUS SERVICE
Seeking anonymity, a staffer of Village Line bus service on Dhaka-Manikganj route, said 17 buses of the company left the capital for Manikganj from 6:00am while only one could reach the city from Manikganj till 1:00pm.
"Pro-ruling party transport leaders told us not to operate buses for two to three hours," said the staffer around noon, adding that around 50 buses of the company ply the route every day.
Ayub Ali, president of Bandhan Paribahan Owners Association in Narayanganj, said they stopped the service as transport workers didn't join work.
"We owners didn't stop the service [on Dhaka-Narayanganj route]," he told our Narayanganj correspondent.
Narayanganj Minibus Owners Association President Moktar Hossain said some buses left for the capital but those were forced to stop near Shanir Akhra.
These buses didn't return and the service was halted, he added.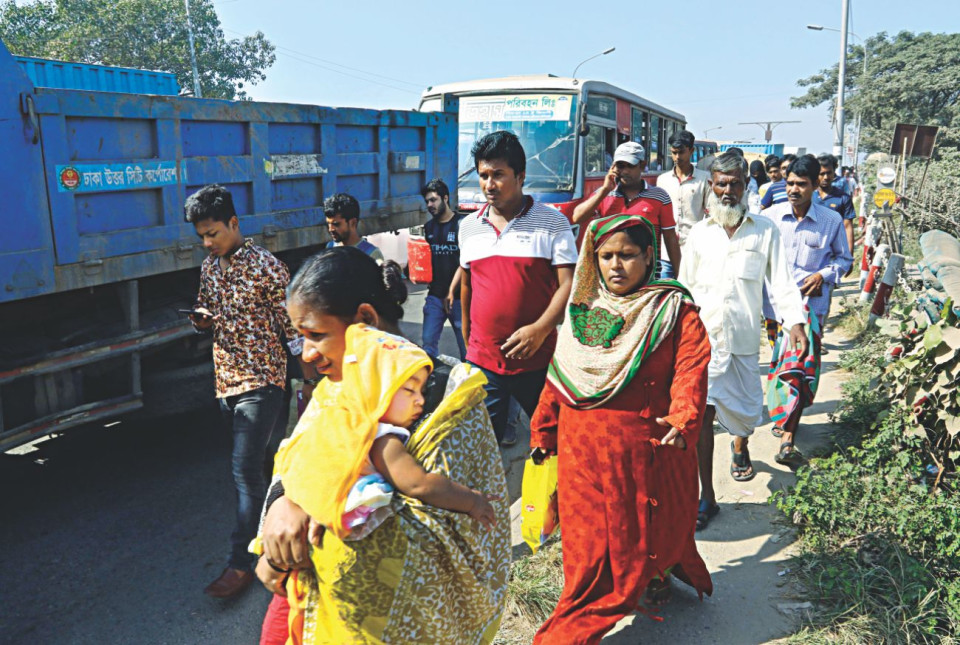 Asked who obstructed the buses near Shanir Akhra, he refused to say anything.
In Gazipur, commuters were seen waiting for transport at several bus stops.
Talking to our Gazipur correspondent, district BNP President Fazlul Haque Milon said police allowed public buses and other transports to leave the capital, but they prevented those from entering the city.
Saleh Uddin Ahmed, assistant superintendent of police (traffic division) in Gazipur, however, said they didn't obstruct any vehicles. Rather, transport workers avoided the route to the capital yesterday.
Asked why they did so, he didn't give any reply.
In Munshiganj, many commuters were seen waiting for buses at different points on Dhaka-Mawa highway in Louhajang upazila since morning due to a sudden halt to Dhaka-bound bus services from Shimulia Ghat bus stop.
Asked why the services were suspended suddenly, transport workers at the bus counters kept mum.
Anisur Rahman, officer-in-charge of Louhajang Police Station, said, "I have heard about it but don't know the reason."