A new island emerging from the Bay, about 30 kilometres to the south of Kuakata sea beach, has already started attracting visitors.
The 2,000-acre area, teeming with red crabs and seagulls, gives a picturesque look.
Some 280 people from Kuakata area, led by Kuakata municipality Mayor Abdul Bareq Mollah, went to the island by four trawlers from Kuakata sea beach on Wednesday.
"We have named the beautiful place 'Char Bijoy'. The eye soothing place bears bright prospect for development as an attractive tourist spot for people from home and abroad," the mayor said.
The visitors planted around 500 mangrove saplings including those of sundari and gol in the island.
"We are observing the nature of the soil of the island that appeared two or three years ago. We have a plan to plant more mangrove trees in the next dry season," said Md Harum-Or-Rashid, ranger of Mohipur forest office, who accompanied the mayor during the visit.
"The newly emerged island covering around 2,000 acres of land is about four kilometers in length and about two kilometers in width. Thousands of red crabs and seagulls move around, adding to the beauty of the area," he said.
A section of local fishermen stay there for three months from December to February. They catch fish in the Bay and dry a part of it there.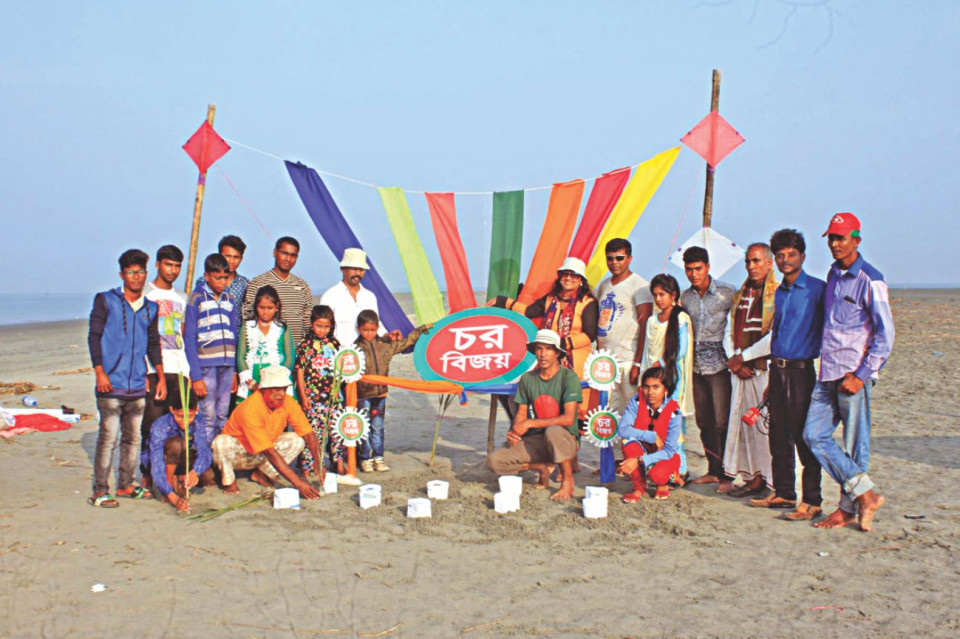 Tourists in small numbers have already started visiting the island by speedboats from Kuakata.
"It is a very enjoyable place," said Sima Akhter, a tourist from Banashree area in Dhaka.
Md Joni Alamgir, president of Kuakata tourist boat owners' association, said the island should be made attractive for visitors through efforts from the government as well as non-governmental organisations.
"We urge the government to take steps to develop the newly emerged island area as an attractive tourist spot," said Md Khalilur Rahman, headmaster of Bangabandhu High School in Kuakata.