They acted gallantly, beyond call of duty
182 police personnel to be honoured today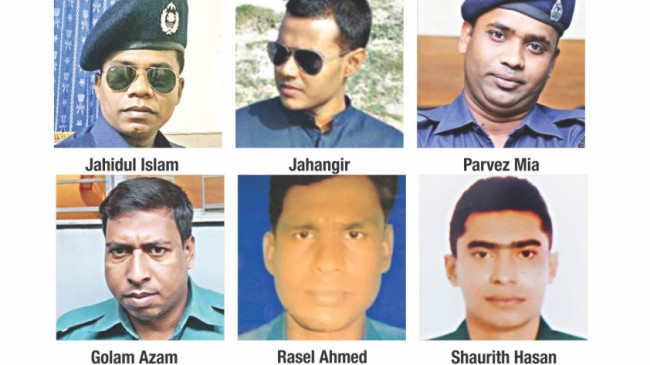 A bus crashed into a ditch near the Gouripur bus stop in Comilla's Daudkandi upazila on July 7 last year. Within moments, it was sinking into the filthy water.
But nobody was willing to save the lives of the bus passengers. Most of the onlookers remained mute spectators, except for some taking snaps of the bus.
All of a sudden, a policeman in uniform dived into the ditch and broke the window glasses of the bus. He pulled out 26 passengers, including a five-month-old baby.
The rescuer, constable Parvez Mia of Daudkandi Highway Police Station, will be awarded Bangladesh Police Medal (BPM) on the first day of the Police Week today.
"I saw it as a responsibility to save the lives. I didn't do it for any award. But this recognition will inspire lower-ranked members of the police to serve the people," said Parvez of Munshiganj's Gozaria upazila.
Recalling the incident, he said he could not have borne the loss of so many lives before his eyes.
The constable, who joined Bangladesh Police around a year and a half ago, believes such work will boost people's trust in police.
Parvez is among the 182 policemen to be honoured with the BPM and President Police Medal (PPM) during the Police Week. Prime Minister Sheikh Hasina is expected to hand over the awards to the winners at a programme at Rajarbagh Police Lines.
JAHANGIR HASAN
Fighting militancy had been a big challenge for the law enforcers in recent years. The police department made all-out efforts to destroy militant hideouts, arrest the radicals, and foil any attack they could be making.
Braving death, cops carried out some successful anti-militancy operations across the country throughout 2017. Some members of the police force will get recognition for their courageous role in the operations.
Jahangir Hasan, senior assistant police commissioner at SWAT, is one of them. He took part in as many as 13 anti-militancy drives and played key roles in making those successful.
During a raid on a militant hideout in the capital's Ashkona on December 24 last year, a woman militant in burqa walked out of a building to surrender to law enforcers. But things went wrong when she blew herself up detonating the suicide vest strapped around her waist.
Soon after her death, Afif Kaderi alias Ador, son of "Neo JMB" leader Tanvir Kaderi, opened fire on police from inside a flat of the building.
Jahangir along with other members of the SWAT's Assault Team fired retaliatory shots at the flat. Later, Afif was found dead there.
The SWAT official, who joined Bangladesh Police in 2012, successfully led his team to "Operation Assault 16" in Chittagong's Sitakunda on March 16 and "Operation August Bite" in the capital's Panthapath on August 14.
The cop will be awarded with PPM this year.
SHAURITH HASAN
A constable at SWAT, Shaurith Hasan along with his team members conducted "Operation Assault 16" in Sitakunda. At one stage of the raid, SWAT members asked the militants to surrender.
But the militants hurled bombs at law enforcers, leaving four SWAT members, including Shaurith, injured. Although his left leg was broken, he did not back off. He helped other SWAT members hit the criminals hard.
The constable, now admitted to Central Police Hospital in Rajarbagh, has been undergoing treatment at different hospitals since March last year.
Shaurith also showed his bravery during "Operation Ripple 24" in the capital's Ashkona. He will be attending the Police Week in a wheel chair to receive his BPM.
Apart from Jahangir and Shaurith, 104 other cops will be honoured with the awards for their role in fighting militancy.
GOLAM AZAM
Muggers stabbed Golam Azam, a constable of Hazaribagh Police Station, thrice when he tried to capture a gang in the capital's Beribadh area on October 18 last year.
The constable along with three other policemen went after the criminals immediately after three labourers complained that a gang of muggers snatched their mobile phones and Tk 2,500 on their way home around 1:00am.
One of the cops dialled the number of a robbed mobile phone to trace the gang. As the policemen tried to detain them, they stabbed Azam indiscriminately.
Despite being badly injured, he held a mugger tight with all his strength. Four criminals were arrested in the incident.
Azam, a resident of Sirajganj's Kazipur upazila, needed 16 stitches in his face.
The cop, who joined the police in 2005, will be awarded PPM this year for his valour.
"This recognition will inspire me to continue to do such work," he said.
RASEL AHMED
Around three months ago, constable Rasel Ahmed of Bhaluka Police Station along with an assistant sub-inspector of police was on patrol near Meherbari area in the evening.
When they were walking along an alley, they saw two men roaming around a shop suspiciously. The shutter of the shop was down.
The cops asked the duo about their identities. As soon as Rasel pulled the shutter up, he came under attack.
"I grabbed one of the criminals, but he shot me in my left leg and left hand. Despite bleeding, I held him tight," Rasel told The Daily Star on Thursday.
The injured constable was later rushed to Mymensingh Medical College Hospital where he took treatment for about two weeks.
The cop, who joined the force in 2002, has been awarded PPM this year.
"Since childhood, I faced all the challenges in my life with bravery. This award will encourage me to serve people with courage in future," said Rasel.
JAHIDUL ISLAM
A police team led by Jahidul Islam, inspector (operations) of Ashulia Police Station, rushed to Dhaka-Aricha highway near Nabinagar around 10:30pm on November 2 last year on information that robbers held passengers hostage inside a bus heading for Nabinagar from Manikganj.
Sensing the presence of law enforcers, the robbers opened fire on the policemen. Jahidul also fired retaliatory shots.
As soon as the robbers stopped shooting, Jahidul boarded the bus firing. The robbers attacked him with a machete.
During the drive, police rounded up 28 robbers who were posing as passengers. Cops also rescued a victim, named Asif, with his hands and legs tied.
For his courageous job, Jahidul has been awarded PPM.
The policeman from Barguna joined the force in 2006 as sub-inspector. He had won the BPM award in 2015 as a sub-inspector of Bhatara Police Station under Dhaka Metropolitan Police.
Meanwhile, three cops will be given special recognition posthumously for sacrificing their lives during the "Operation Twilight" in Sylhet last year.
Lt Col Abul Kalam Azad, intelligence wing director of Rab, Chowdhury Abu Mohammad Kaiser, inspector of court police in Sylhet, and Monirul Islam, inspector (investigation) of Jalalabad Police Station, died in a bomb blast during the drive.