At least once in your life, you must have been to a grocery store or a modern convenience store to check off household shopping from your chores list. But shopping regularly from the store next-door can get monotonous easily, as well as expensive.
During winter, you can bring a change to your regular shopping routine and drop by the local farmer's market – a niche market with a handful of vendors selling fresh produce that is picked out on a daily basis.
On a pleasant morning, take a walk down the Agargaon Colony Road, and at random intervals, you will find a couple of vendors with big baskets full of green leafy veggies negotiating with interested customers. Similarly, if you live close to the Kamalapur Railway Station, you might have noticed the sellers who sit with their harvests spread across both sides of the rail lines (when there is no train movement, of course). On hearing the whistle of an oncoming train, they quickly gather their beloved belongings and scurry away, only to settle down again once the coast is clear.
Most often, these vendors are the farmers themselves. Some of them live in shacks and tend to use the limited space surrounding their habitats to grow whatever they can. For instance, some farmers selling their produce at the Mohammadpur Town Hall market actually come all the way from Bosila (across Nobodoy Housing Society), where they originally farm and live. Another commendable place to go hunting for the freshest produce would be across the Balu Bridge at Purbachol. Numerous farmers from nearby gather there to sell a flavourful collection of brightly coloured veggies – pumpkins, tomatoes, gourds, celeries and many more!
---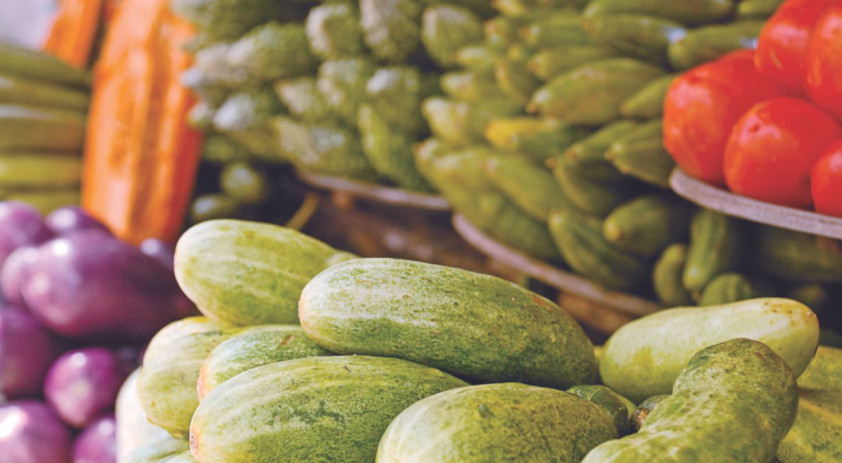 ---
Vegetables and greens sold at the farmer's market tend to be quite budget-friendly as well. On crossing the Diabari Bridge (Uttara), you will see a great variety of fresh produce being sold in an open marketplace. It is quite easy to have an amiable bargaining session with the sellers and you will be surprised to discover that they are often actually more understanding towards your budget than other big market vendors. Such farmer's markets can be spotted in some parts in Abdullahpur and Beribadh as well.
Besides being a fun trip outdoors, a day at the farmer's market lets you get to know the local produce and the locals who harvest it. Moreover, your purchases are helping to support a small business (and family) that not only uses lands for farming but also provides you with fresh food to make your meals healthier and tastier!